World-famous Premium Japanese Wagyu Beef
Sukiyaki, shabu-shabu, teppanyaki.... Japanese hot pot and grill dishes using Japanese wagyu beef have now become very popular overseas. Japanese wagyu beef is famed worldwide for its distinctive full-bodied flavor and fine texture. The fat marbling of Japanese wagyu beef is called "shimofuri," a frost-like pattern of "sashi" (marble lines) spread throughout the meat like a fine mesh. Its melt-in-the-mouth texture and sweet, rich taste are truly unforgettable.
Japanese wagyu beef cattle are native to Japan and Japanese wagyu varieties have been improved over the years through breeding programs by agricultural organizations and beef farmers. Their efforts have resulted in higher-quality meat. Japanese wagyu cattle are fed on carefully selected feed and kept in clean barns, in conditions designed to avoid causing stress. Beef farmers pay close attention to each and every animal, sparing no time or effort.
A Meticulous Beef Traceability System to Ensure Safety
Each calf born in Japan is assigned an ID number and registered on a database together, which is updated with production and distribution information about the animal from birth through to the sale of the resulting meat. The ID number on the label affixed to a pack of beef ensures the easy availability of information about who reared the calf, when it was born, and even which cow gave birth to it. This beef traceability system is well established in Japan. The production history of each piece of beef can be viewed in store or online at home.
Z

EN-NOH's Farm-to-Store Traceability System
Each Japanese wagyu beef calf is carefully reared to meet the highest standards of both safety and quality.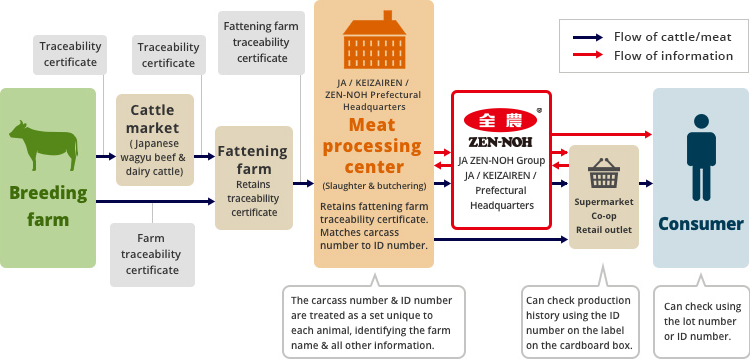 Traceability Process

Each calf is assigned its own ID number (ear tag number).
The breeding farm or fattening farm enters the ID number and detailed information on a traceability certificate.
The meat processing center assigns a carcass number to the butchered meat.
The two numbers are treated as a set, enabling the production history of the beef to be traced.
Z

EN-NOH Wagyu in Global Markets
Around the world, Japanese wagyu is a synonymous with luxury beef. The wide acceptance of the term can be seen in the marketing of U.S. wagyu and Australian wagyu. Accordingly, to establish a strong brand for Japanese wagyu produced in Japan, ZEN-NOH sells beef under the ZEN-NOH Wagyu brand. In markets where region-specific Japanese brands can be sold (Hong Kong and Singapore), we are striving to promote the use of those regional brands. We have also opened restaurants operated directly by the ZEN-NOH Group to enhance our retail business, rather than simply selling wholesale to businesses overseas. Through such efforts, we continue to strive to communicate the appeal of Japanese wagyu directly to consumers overseas. We operate the creative Japanese restaurant Shiki Beverly Hills in the U.S., the Kacyo restaurant in Vietnam, and the TOKIMEITĒ restaurant in London. In addition, JA ZEN-NOH Meat Foods Co. Ltd. has opened two Japanese Wagyu Yakiniku Pure restaurants in Hong Kong. We plan to open more restaurants in the U.S. and Southeast Asia to further enhance our retail operations.